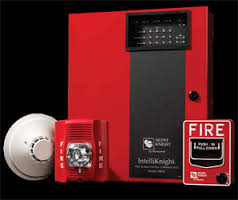 As the unrivaled provider of top-quality fire extinguishers in the Park City and Salt Lake City areas, we also install, service, maintain, repair, recharge, and hydro-test extinguishers. We provide annual maintenance and service for sprinkler systems and installation and service for restaurant suppression systems for every commercial and industrial client in the Greater Salt Lake City area. We are happy to conduct site survey and analysis on any size property, and we offer annual maintenance plans to ensure your fire protection services are always up-to-date and ready for emergency response.
We carry a full line of fire protection systems and we're proud to offer the following services:
Fire Protection Services:
We conduct encompassing studies of building codes and assessments of the fire hazards faced by the particular property, the potential for compartmentalization of fires and the potentials for suppression, to provide you with a detailed coverage plan.
Fire Alarms:
We offer maintenance and testing on state-of-the-art fire alarm systems to ensure that, in the event of a fire, the alarm and response is not lacking.
Fire Extinguishers:
We carry Class K Kitchen Fire Extinguishers, water fire extinguishers, pressured dry chemical fire extinguishers, clean agent fire extinguishers, as well as the necessary accessories and services such as brackets, hydro testing, repairs, and training. We provide the most prompt and efficient fire extinguisher service in Salt Lake City.
Fire Sprinkler Systems:
Most building fires are quickly brought under control by fire sprinkler systems alone, so even with the advent of more complex systems it's still important to have a sprinkler system present. We provide maintenance and testing services of state-of-the-art sprinkler systems.
Fire Suppression Systems:
We are a leading provider and installer of complex fire suppression systems necessary to industries, particularly restaurants, to prevent damage to and loss of equipment. Our suppression systems can be set to detect fire threats manually, through heat sensors or wiring, and can use a combination of wet agents and dry chemicals to suppress fires.
Industrial Fire Systems:
We provide crucial fire protection and system service to all kinds of commercial and industrial properties, including airports, auto dealerships, apartment buildings and condo complexes, auto repair shops, construction companies, country clubs, factories, hospitals, high-rise buildings, malls, municipalities, office buildings, restaurants, tire shops, schools, ski resorts, trucking companies and warehouses.
Food Truck Fire Suppression System:
We install and service a Pro-Chem fire suppression unit for food trucks. This includes an emergency extinguishing system where nozzles are placed under the commercial hood with an open flame. If the temperature exceeds 450-500 degrees, a liquid chemical will be dispersed and the gas will automatically be shut-off.
Fire Hose Hydro Testing:
We offer fire hose hydro testing as outlined in the NFPA 1962 Standard for the Care, Use, Inspection, Service Testing and Replacement of Fire Hose, Couplings, Nozzles and Fire Hose Appliances.
Through accurate, verifiable and easily accessible building inspection reporting, BuildingReports can help building owners and property managers ensure that the fire and life safety systems installed at their location are working and in compliance with local regulatory standards. BuildingReports' comprehensive building inspection reporting solutions verify that inspectors have completed their inspections thoroughly and accurately.
Don't wait any longer to ensure your property is properly protected from all potential fire hazards. Give us a call today at 801-664-6944 to learn more about our services or to schedule your free estimate.