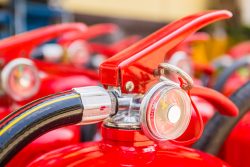 AllStar Fire Protection and Extinguishers provides comprehensive fire protection services to businesses throughout the Park City, UT area. Our intent is to protect you, your patrons and your business at large from the threat of a devastating fire. We do this by providing installations, service, maintenance, repairs and recharging services for fire safety products.
Our expertise with fire prevention and protection standards extends to all types of businesses, including ski resorts, vacation property management companies, food trucks and more! Fire safety isn't a one-size-fits-all solution. Let us help you make sure the solutions you have are ideal for your business and properly maintained.
Fire extinguishers: We hydro-test and recharge fire extinguishers to ensure they're ready to protect you at a moment's notice. We provide this service for all types of extinguishers and can recommend the right class for your facilities.
Fire alarms: Fire alarms are your first line of defense against smoke and fire. We'll test your alarms to make sure they work and service them if the batteries are dead or there's a problem with the connection. We can even install new alarms if needed.
Fire sprinkler systems: Let us inspect your sprinkler system to make sure it's in good condition, able to deploy in the event of a fire. We inspect thoroughly, to help you remain compliant with National Fire Protection Association (NFPA) standards (NFPA 25).
Industrial fire systems: We inspect, test, maintain and repair fire suppression systems of all types, including gas, mist and foam systems, as well as chemical dispersal systems present in commercial kitchens. We're the authority Park City, UT businesses trust!
Food truck fire suppression systems: Our experience with commercial kitchen fire suppression systems enables us to also service similar systems in food trucks. We'll keep your truck safe and compliant with NFPA standards, so you can keep on cooking!
We give you the preventive service that's right for your business. This includes utilizing fire protection products from best-in-class brands like Ansul, CleanGuard, Pyro-Chem and Sentry—brands with a proven record for putting safety first.
Contact AllStar Fire Protection and Extinguishers today at 801-664-6944 to schedule a fire protection consultation appointment for your Park City, UT business. Let us show you the path to peace of mind through fire protection planning.